Welcome to Floren Healthcare Services, Inc.
We are known for the quality of our professionals and for good reason. Floren Healthcare Services, Inc. has taken the time and carefully chosen its staff who are given the trust of family members to care for their loved ones. We care for people who have health issues, mobility difficulties and illnesses. These health conditions may compromise their quality of life but with the help of our team, that can be avoided. We focus on the wellness and comfort of the client at home.
Our Home Care solutions and staffing services for private residences offer benefits for the client and the entire family as well. Floren Healthcare Services, Inc. makes it possible for the client to avoid re-hospitalization or long-term admission in a nursing care facility. They can stay in their own residences for as long as possible.
Home – where you can have control over the lifestyle you live, the people you spend time with and the level of comfort you want to enjoy. Staying at home is possible with Floren Healthcare Services, Inc.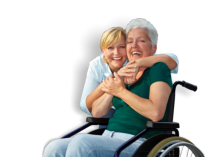 Our Mission Statement